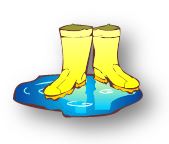 Every Wednesday morning all children in the nursery participate in our Wellie Wednesday, this is a great opportunity for all the children to explore experiment and play in our wonderful outside area. We plan and undertake a variety of activities including:
Planting and digging
Mud pies
Water play
Looking after our wildlife including feeding the birds
Playing in our 'secret garden'
Outside art work and cooking
All children participate come rain or shine, so waterproofs and wellie's are a must!
We welcome help from all our parents so please come and join in when you can.
Wellie Wednesday is the perfect introduction to our Forest School Sessions which run for our pre school children.