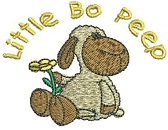 These terms and conditions govern the basis on which we agree to provide childcare services to you.
1 Obligations on Little Bo Peep Ltd
1.1 We will:
1.1.1 Inform you as soon as possible whether your application for a place has been successful.  You must confirm within one week of receiving notification that you still wish to take up the nursery place.  If you do not, the place may be withdrawn;
1.1.2 Provide the agreed childcare facilities for your child at the agreed times (subject to any days when your child's nursery is closed). If we change the opening hours of nursery we will give you as much notice of the decision as possible and, if necessary work with you to agree a change to your child's hours at nursery;
1.1.3 Try and accommodate any request you may make for any additional sessions and/or extended hours of childcare
1.1.4 Provide you with regular verbal updates as to your child's progress on request;
1.1.5 Notify you as soon as possible of any days on which we will be closed.
2 Obligations on you
2.1 You will:
2.1.1 Complete and return to us our standard health record before your child can start and immediately inform us of any change to the information provided that health record;
2.1.2 Complete a medicine consent form if you require our staff to administer any medicines to your child (whether they are prescribed or over the counter medicines);
2.1.3 Immediately inform us if your child is suffering from any contagious disease.  For the benefit of the other children in the nursery, you must not allow your child to attend nursery if they are suffering from a contagious disease which could easily be passed onto another child during activities . A  48 hour exclusion period is required from the last bout of sickness or diarrhoea and a 24 hr exclusion period for antibiotics;
2.1.4. Immediately inform us of any changes to your contact details;
2.1.5 Keep us informed as to the identity of the persons who will be collecting your child.  If the person collecting your child is not usually responsible for collecting them we will require proof of identity.  If we are not reasonable satisfied that an individual is allowed to collect your child we will not release your child into their care;
2.1.6 Inform us if your child is the subject of a court order and provide us with a copy of such order on request;
2.1.7 Immediately inform us if you are unable to collect your child  by the official collection time;
2.1.8 Inform us as far in advance as possible of any dates on which your child will not be attending ; and
2.1.9 Provide us with a least 1 month's notice of your intention to decrease the number of hours your child spends with us or to withdraw your child and end this Agreement.  If insufficient notice is given you will be responsible for the full fees for your child for 1 month from the date of any change as if their hours had not decreased.
3 Payment
3.1 Our fees are based on a weekly fee which shall be notified to you in advance of your child starting.  We may review these fees at any time but shall inform you of the revised amount at least 1 month before it takes effect.  If you do not wish to pay the revised fee, you may end this Agreement by giving us 1 month's notice in writing.
3.2 Fees are paid on a monthly basis in arrears
3.3 Payments may be made by either cash, cheque, bacs or childcare voucher
3.4 If you have requested additional sessions or have been unable to collect your child by the official collection time and we have as a result provided you with additional childcare facilities we will charge you for the additional childcare at the end of the month.
3.5 If you fail to make payment in full by the due date we reserve the right to enforce an interest charge of 2% above the base rate of our bank on the fee outstanding for every day the invoice remains unpaid along with an administration fee of £25.00.  for any failed direct debit or cheque we will charge a £5 administration fee.
3.6 No refunds will be given for periods where your child's place is unfilled due to illness or holidays  or closure beyond our control.
4 Suspension
4.1 We may suspend the provision of childcare to your child, and add on 1 month's notice, at any time if:
4.1.1 You have failed to pay any fees;
4.1.2 Your child's behaviour at the nursery is deemed by us to be unacceptable or endangers the safety and well being of the other children,  The suspension shall continue whilst we try and address these problems with you.
4.2 If your child is suspended partway through a month, under the conditions stated in clause 4.1.2 we shall give you a credit for any fees you have already paid for the remaining part of that month, calculated on a pro rata basis.  This credit may be offset against any sums payable by you to us.
4.2.1 If the period of suspension exceeds 1 month, either of us may terminate this Agreement by written notice.
5 Termination
5.1 You may end this Agreement at any time, giving us at least 1 month's notice, by completing the notification of leave date form.
5.2 We may immediately end this Agreement if:
5.2.1 You have failed to pay your fees
5.2.2 You have breached any of your obligations under this Agreement and you have not or cannot put right that breach within a reasonable period of time of us asking you to
5.2.3 You behave unacceptably, as we will not tolerate any physical or verbal abuse towards staff;
5.3 You may immediately end this agreement if:
5.3.1 We have breached any of our obligations under this Agreement and we have not or cannot put right that breach within a reasonable period after you have drawn it to our attention; or
6 General
6.1 We have an obligation to report any instances where we consider that a child may have been neglected or abused to the relevant authorities.  We may do so with or without your consent and/or without informing you.
6.2 If the nursery has to close or we take the decision to close due to events or circumstances which are outside our control we shall be under no obligation to provide alternative childcare facilities.
6.3 If you have any concerns regarding the services we provide please discuss these with the Manager or Owner.
6.4 We carry a wide range of toys and equipment at nursery and if you child brings toys with them we accept no responsibility for any loss or damage to those toys.
6.5 We cannot accept responsibility for any lost item of clothing.  All items of clothing should always be named.
6.6 From time to time we may have photographs taken of the children.  These photographs may be used for promotional purposes.  If you do not wish your child to be included in these photographs you should write to the nursery manager.