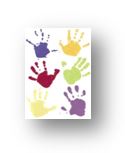 No medication of any description will be administered to any child without the written consent of the child's parent.  This includes Calpol, Teething Gels, Cough & Cold remedies and all Nappy rash creams.
All medicines requiring refrigeration are to be kept in the top shelf in the fridge in the kitchen.  All other medicines, creams, and inhalers are to be stored in the wall cupboard in the kitchen.
It is essential that the parents of children requiring medication to complete and sign our medication form.  We cannot give the medication if we do not have the signed dosage/consent form.
Medication will be given by a designated supervisor.
FAILURE TO ADHERE TO THIS POLICY COULD RESULT IN DISASTROUS CONSEQUENCES.
Calpol – if a child requiring Calpol has been in nursery for less than four hours the parent/carer will be contacted to ensure that Calpol has not already been given.  Consent forms will be checked to ensure that there is permission to give Calpol.  In the first instance before Calpol is given the parent/carer will be contacted regardless of time in nursery, not all parents will want Calpol administered and may wish to pick up their child.
Staff will only administer Calpol once during the course of a day, if a child requires Calpol during regular intervals ie every four hours than the nursery deems that child too ill to be at nursery.  Parents are able to sign for one dose only; if symptoms persist after this time then parents will be informed and asked to collect their child.  Children requiring Calpol for longer than two days will not be able to return to nursery unless they have been to their GP; it is our concern that the use of Calpol can mask the symptoms of something more serious.
Nursery staff will only accept sachets of Calpol, each sachet will be counted and signed into nursery and the used sachet will be returned to you dated and signed by the member of staff who administered it.
Emergency Calpol is stored on the premises and this too is in sachet form.
We appreciate that Calpol can be used to alleviate other symptoms including teething pain, in this situation we will only administer Calpol once.  We do ask that teething gels and crystals are used before Calpol.  The maximum dose we will ever give is 5ml of any paracetamol based medicine.
Please note that any medicine that has not been prescribed by a doctor will only be given if necessary and in accordance with the instructions.  We would respectfully ask that parents be reminded that staff have the right to refuse to administer medicines such as Calpol and cough medicines if the symptoms do not present during nursery hours.