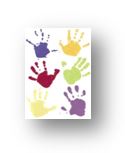 All children are encouraged to learn the importance of eating healthy foods.  Meal and snack times are seen as opportunities to extend children's learning in a social situation.
Meal times are important parts of the nursery and pre-school day and this varies slightly depending on where your child is within Little Bo Peep Nursery and Pre-school.
Meadows Room- 3 months to 12 months
Children within this age range need to have their food, snacks and any specific formula milk supplied for them. Nursery staff will follow appropriate procedure to reheat and handle foods and snacks at this stage.
Meadows and Orchard children 12 months upwards
Children are now able to move onto our nursery hot meals, these are cooked on site at a cost of £2.10 per meal. We offer varied and nutritionally well balanced menus. During our Wellie Wednesday session we do grow a variety of vegetable's that we then use where possible within our meals. So far we have successfully grown potatoes, tomatoes, courgettes and runner beans and used them within our meals. We run a four week rolling menu that is reviewed regularly as well as being able to offer alternatives for children with food allergies and intolerances.
We have recently been inspected by environmental health and were given a 5 star rating for our food handling and storing procedures.